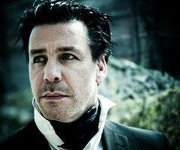 Corage Tragon is a 18 year old reincarnation of the past dead Lord Tragon, who was killed.Corage has had his series of fights in his life and he was cheated and betrayed by his friends by numerous.This man works alone now, or if it's a good job offer then he'll take it. Corage Tragon's distant father Letumus Vorn Mortung has always hated his son for being so disappointful.His wife left with the kids and left him alone.He has been broken numerous times and now he is just a ghost of what he was.Fremdenhass was the high spot of his life, leading a big corporation which fragmented anything that was not human.
Motto:When it's not alive, it's dead.
Corage also has schizophrenia and many of people has always been suffering about it.
He also has had a big load of characters and other names like:Riotern,Carcatus,Faith Eward Lutrinen,Darth Tragon.
Corage also has his share of failed marriages and he has 2 sons who left with their mothers.Usually the cause to his divorces is Letumus, his mental father who always ruins his life in somehow.Tragon has been in many wars and survived them all.